Richard J. Orlando has written a fantastic book in three volumes - A Love That Burns. It is highly recommended, this is a book that every dedicated fan of Peter Green's music should have in his collection.
Kindly,
Bela Stephens
---
It is the definitive reference guide of all recorded music performed by British blues guitarist and Fleetwood Mac founder Peter Green, as a band member, band leader, solo artist and guest musician from 1966 to 1973.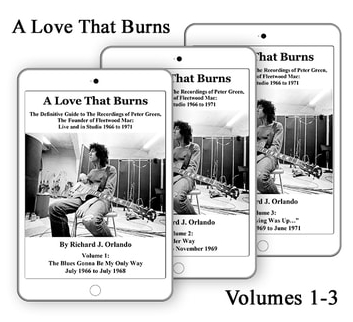 A Love That Burns offers a "biography" of an artist through the study of the music that inspired him and the work that he created during one of his most productive periods. Across the three volumes, 1,000 performances of 378 individual songs are detailed and reviewed, including:
Every official release on 45 or LP, including all available outtakes and alternates from those sessions, and his guest session work with other artists;
All surviving performances recorded for BBC radio and television, most of which have never been officially released;
Every known concert performance captured on tape.
The recording sessions and concerts are placed in chronological order; knotted tour histories are untangled; recording dates, song titles and composer credits are corrected.
Richard J. Orlando says: "Peter Green was an influential figure in the British blues movement and one of the greatest guitarists of all time. Though the bulk of his music reviewed in these three volumes was originally recorded 50 years ago, it is still being 'discovered' today by listeners old and new. I hope this book will provide a deeper understanding and appreciation of Green's music for both longtime fans and those just now learning of this 'hidden' treasure, as well as spur them to delve deeper not only into his music, but also the music that inspired him."
The three volumes are available for purchase at Smiling Corgi Press.