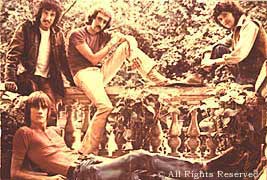 This was a longed-for Concert. Fleetwood Mac had released two singles; "I Believe My Time Ain't Long" and "Black Magic Woman" which were very popular in Scandinavia and their debut album "Peter Green's Fleetwood Mac". Peter Green became a name here in Sweden already when he toured with John Mayall. We were all eager to see Peter with his own band.
I have many fond memories from this very concert, the first of totally four concerts during 1968-69. I recall when I was in their dressing room and took up Jeremy Spencer's guitar — a Kay Speed Demon Sunburst. (I was only 16 years old and had no inhibitions). I was trying to be kind and tune his guitar since I thought it was "out of tune".
Jeremy came in the room and saw me and asked "what the hell I was doing". I told him "I'm tuning your guitar since it's out of tune". Jeremy laughed his head off, and showed me that it was tuned in an open E- chord. I had never seen or heard of that before, so we all had a good laugh. Jeremy showed me some riffs that he played on "Shake Your Moneymaker". Peter Green showed me a few blues licks and gave me some tips. He also told me that his main influence was B. B. King and mentioned Little Richard and Elvis as his favourite singers, which really suprised me then. One of the main reasons that I got along so well with Peter was probably that I talked with him about music and influences from a philosophic point of view. Other people tired him with the usual questions as "what strings/amps do you use".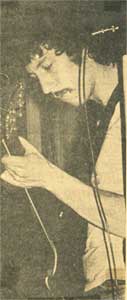 This was the most cheerful concert I experienced with Fleetwood Mac. They were laughing a lot and they made the audience laugh also with their at times bizarre humour. This was before they had encountered heavy chemicals, the only "drug" was alcohol. They were four young (poor) bosom pals playing their hearts out. Jeremy was eating a bag of cheeze doodles, he apologized for not letting me share, but that was all he had eaten that day, he said. Peter wore sneakers and no socks.
In those days Fleetwood Mac had 3 shows within the show. First Jeremy doing his Elmore James routine, then Peter Green playing some of his early compositions (Evil Woman Blues, Black Magic Woman, I Loved Another Woman etc) and some B.B. King numbers (Worried Dream, Sweet Little Angel) and finally Jeremy turning Fleetwood Mac into an american style Rock "n" Roll band. John McVie and Mick Fleetwood was the tighest rhythm section you could imagine.
It was the first time I saw a Gibson Les Paul. Peter played his beautiful 1959 Sunburst Les Paul thru a Vox AC100 amp with a 4x12 cabinet. I had never heard somebody play like that before, his tone was so warm and soulful and still so powerful. Peter had a funny habit changing the volume or the tone control after almost every single phrase on his guitar. (I remember I thought to myself that this guy must be very critical and hard to please).
John McVie was using his battered Fender Precision bass from his Bluesbreakers days and Mick Fleetwood had a beautiful Slingerland drum set.
Peter Green played harmonica on some songs and he did it with a remarkable delicacy. Peter's singing and playing moved me in a way that was unprecendented. It was almost like a religous experience. (I realize this is the same kind of experience as to find salvation).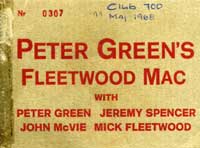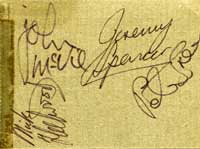 After the concert we helped Fleetwood Mac and their roadie Huw Pryce with their equipment. They were very polite, shook hands and thanked us for helping them.
I went home as a newborn person, I had fell in love with their music and have been ever since.
© 1999. Copyright Bela Stephens 1999