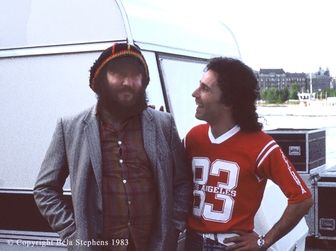 Butterflies in my stomach, that's how I felt when I came to Stockholm that day. I had spoken to Dante Holmberg, he knew the guys who would handle the P.A. system on Peter's concert. Dante had promised me that he would arrange so I could meet Peter backstage.
It was an outdoor music festival on a lovely sunny Saturday afternoon, with barbecue and they served beer, wine, tacos, Hungarian "langos" etc etc.
There were some Swedish bands who had been given the ungrateful job to be support acts this day. The audience had travelled from all over Sweden to Stockholm,(some very far) to see their guitar hero, who cared about support acts?
Peter was wandering alone in the crowd when I met him. He recognized me and said "Hello, how are you?". We spoke a little on the spot where we met, but were interrupted by people who wanted him to sign records and stuff. Therefore Peter suggested that we would go backstage instead, and have a talk there.
Peter remembered our former encounters and especially the jam at Power House. I was flattered that he could recall such an event since that was way back in 1968 and that was during Fleetwood Mac's most hectic period.
I had my friend, the sadly deceased Jan Axelsson, with me and he was also very exalted for getting the opportunity of meeting Peter of course. It was Jan who took the pictures of Peter and me.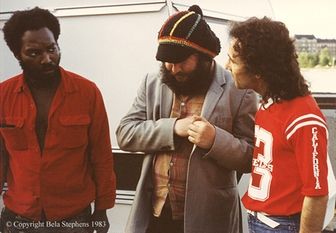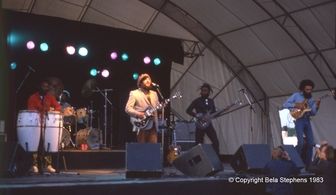 We talked about Fleetwood Mac, music and guitars. Peter told me that he was playing on a Aria Les Paul PE-R80. He had sold his beloved 1959 Gibson Les Paul to Gary Moore, and had not played on a Gibson Les Paul since then. Peter said that he sometimes used a Fender Stratocaster or a Jaguar. He didn't get attached to an instrument any longer, "a guitar is just a guitar" he said.
A funny thing happened when Peter noticed my golden ring on my right hand. He looked at it and said, "I used to have a ring just like that". I took it off and it was a very special moment when he put my "Peter Green ring" on his finger. I had bought that ring back in 1969 just because of Peter.
The bandmembers of Kolors were (over)protective and were surprised and a bit worried that Peter and I got along so well, especially Jeff Whittaker. It is evident on the photo where Peter puts the tape with my songs in his pocket. This behaviour backfired on them later.
Well, what could I say about the Concert, it was a strange experience to see Peter on stage. When he was with Fleetwood Mac he was such a strong persona, it elevated him above the others. With Kolors Peter was not present and didn't seem to enjoy being on stage like he did late in the '90s. He played beautifully on his "Supernatural" though and showed that he still got the touch. I was under the impression that he would have felt better and consequently played much better with other musicians around him.
Anyway, it was great to see Peter LIVE again after 14 years and we had every reason to believe that this was not "The End Of The Game" after all...
KOLORS band members:
Stephane Rene: guitar
Mick Weaver: keyboards
Durban "Spartacus" LaVerde: bass
Godfrey McLean: drums
Jeff Whittaker: percussion

Peter Green with Kolors Setlist
| | |
| --- | --- |
| 1. | Proud Pinto |
| 2. | Love That Burns |
| 3. | White Sky |
| 4. | Shining Star |
| 5. | Loser Two Times |
| 6. | Supernatural |
| 7. | In The Skies |
| 8. | Crying Won't Bring You Back |
| 9. | Man Of The World |
| 10. | Oh Well |
| 11. | Black Magic Woman |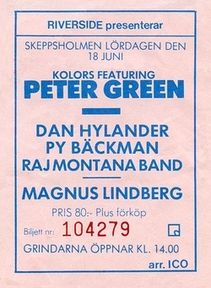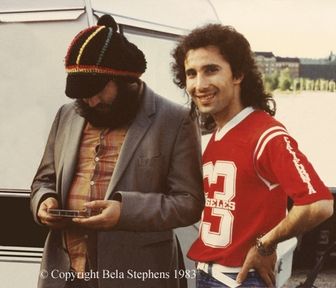 © 1999 Copyright Bela Stephens. April, 1999.