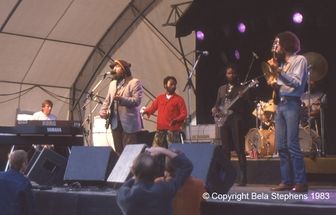 Fourteen years had passed since the last time I met Peter Green, so I decided to see both his concerts here in Sweden that Summer. Within 48 hours I travelled 1000 km (620 miles) to see Peter with Kolors.
There was a Music Festival called "Musik till gryningen" in Angered, North of Gothenburg. Since it was an outdoor festival there were no problems getting tickets. I went there with a couple of friends who also were interested in hearing Peter Green live.
We were sitting in the park on the grass when somebody tapped me on my shoulder. I looked up and it was Peter Green's bass player Spartacus. He recognized me from Stockholm the day before at Skeppsholmen. Spartacus asked me if I wanted to come backstage with him and meet Peter.
Of course I would not turn down an offer like that. Spartacus told me that they all were surprised yesterday that Peter was in such good mood after meeting me. Needles to say, so was I hearing that.
Peter seemed glad to see me, he was all smiles when I entered the room. He told me that he had listened to the tape that I gave him in Stockholm. Peter said that he liked the slow blues "Listen Johnny". It gave me goosebumps hearing Peter saying that he liked my song and my guitar playing. I showed him a photo from the Fleetwood Mac concert in Örebro, November 6, 1969. I asked him to sign it with "Peter Green", which he did. Otherwise Peter used his real name Peter Greenbaum during that period.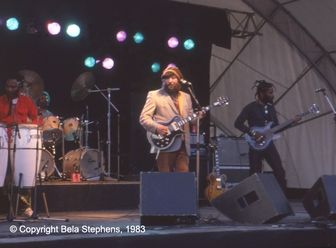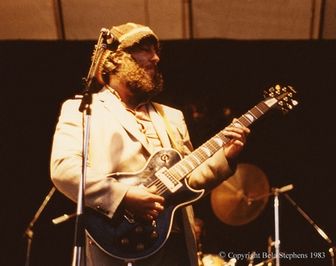 They started their concert with a 10 minutes version of "Love That Burns". Peter, as well as the band members, seemed more relaxed that day. Perhaps it was because the concert in Stockholm went down so well. Peter showed more presence on stage as well. The musical arrangements had a flavour of funk and reggae. They performed six Fleetwood Mac songs that day. A heartfelt version of "Albatross" lasted almost six minutes - with Peter and Stephane trading licks - longer than any version with Fleetwood Mac. They ended their show with an up-tempo rendition of "The Green Manalishi".
I had not brought my camera with me, so all these pictures are actually from the concert in Stockholm, but I recorded the concert. My recordings of the Stockholm and Gothenburg concerts are widely spread amongst collectors.
After their performance I thanked Peter and the band members for the concert. Little did I know that it would take another 16 years before Peter and I would have a happy reunion in Sweden again.
KOLORS band members:
Stephane Rene: guitar
Mick Weaver: keyboards
Durban "Spartacus" LaVerde: bass
Godfrey McLean: drums
Jeff Whittaker: percussion

Peter Green with Kolors Setlist
| | |
| --- | --- |
| 1. | Love That Burns |
| 2. | White Sky |
| 3. | Shining Star |
| 4. | Loser Two Times |
| 5. | Supernatural |
| 6. | In The Skies |
| 7. | Crying Won't Bring You Back |
| 8. | Man Of The World |
| 9. | Oh Well |
| 10. | Black Magic Woman |
| 11. | Albatross |
| 12. | The Green Manalishi |
© 2018 Copyright Bela Stephens. May, 2018.