Fleetwood Mac at Concert Hall, Orebro, Sweden. November 6, 1969.
This was Fleetwood Mac's fourth Concert here in Orebro, and expectations were high. They had now quite rightly and deservedly reached the status of superstars. This very year Fleetwood Mac sold more records than The Beatles and The Rolling Stones. The newspapers said that they were no longer a blues band, I was anxious to find out what that meant. It sounded unlikely that the world's greatest blues band no longer played the blues!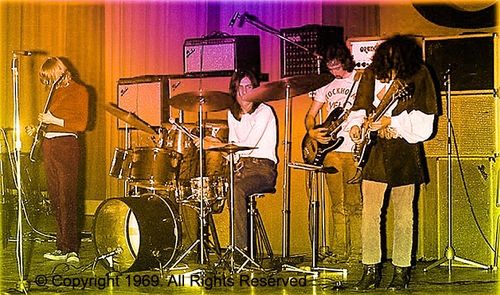 When I came in the dressing room Peter Green was in the middle of an interview for the Swedish Radio. He nodded at me with a smile. Here's in print of the part that I overheard. The reporter asked what Peter thought of the swedish audience. "They have been very good this trip, much better than last trip and the trip before, but I mean, we're playing much better as well, so...". Is the audience any different from the audience in England? "Well yeah, all audiences are different in all countries, different in a way, you know. In England they do what they want to do, if they wanna dance they; they dance. Usually in Scandinavia they're very still, they make it like a Concert. But this time is much more like England, so there is less difference". Your music has changed? "Well, we've got new things, the old things that we used to play, is still the same as we used to play them. If I do a number I did two years ago, I'll do it exactly in the same way. So really our music has not changed, it's just that, we are putting in new kinds of music". What kind? I don't really know, just different kind of songs!".
The atmosphere in the dressing is hard to decsribe, but it breathed "professionalism". These were no longer five pals playing their hearts out, for the fun of it. Keep in mind that this was only 5 months before Peter announced the he would leave. I got the feeling that they were five individuals more than a group. I didn't wanna be in the way, so I said to Peter that we could talk after the Concert.
The stage was crowded with Fender amps, only John McVie had kept his Orange amp. They were using a WEM P.A. system. Peter played on Fender Dual Showman amp thru 3 tweed Fender cabinets.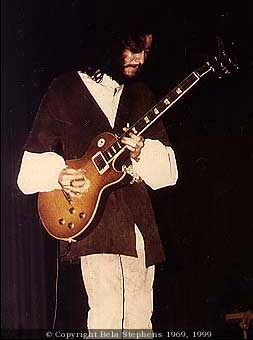 Peter did the opening number, Otis Rush's "It Takes Time" with a tremendous authority. I should have known by then, but it took me by surprise every time, that Peter was that good. Peter had recorded this song with Bob Brunning's Sunflower Blues Band, one month earlier. Peter's next song was Howlin' Wolf's "Sugar Mama", which he played with an aggresion that was rare. Don Brown, the Peter Green Connoisseur, told me this week (March 1999) that Peter had related the lyrics to a girlfriend called Barbara from Philadelphia.

[For further information regarding Fleetwood Mac, lyrics, tours, records etc etc; Please visit www.fleetwoodmac.net and www.petergreen.net]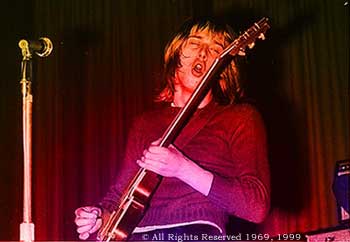 Danny Kirwan, no longer "Young Eyes", now had a cherry Gibson Les Paul sunburst (with PAF's), played his own "Like It This Way". It was delightful to hear Danny and Peter do this "call-and-answer" tune, they were playing together like never before. The next tune was Danny's "Something Inside Of Me" Danny always played his own compositions whereas Peter often choose to cover his favourite heroes!
As before Jeremy Spencer showed his skills on the piano on Peter's
and Danny's songs. Jeremy had different guitars every time I saw Fleetwood Mac, this time he played on a red Gibson Flying V. His first song was a relaxed rendition "Got To Move" written by Elmore James, from their debutalbum. His tone was harder than before, mostly because of the Flying V, which is a solid body guitar, a hollow- body guitar always gives a warmer tone. Jeremy's next was Elmore's "Baby Please Set A Date".
The follwing two songs were the highlights of the show. First Peter performed a knock-out version of "Rattlesnake Shake" from their current album "Then Play On". This live version was much longer than on the record, and later on their last U.S. tour they would extend this song to 30 minutes. This was not blues, but yet fitted in so well in their act, this was what Peter had refered to as "different kind of songs". How odd it may seem, Peter was inspired by the song "Dancing In The Street" when he wrote this one.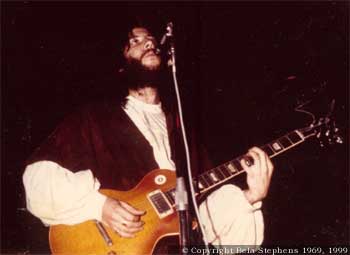 Peter played a beautiful intro on the next tune B.B. King's "Worried Dream", before the other members joined him on this terrible sad song. This is one of the greatest solo I ever had heard with Peter Green, no-one else could play as emotional as he. He was so charismatic that you could feel his soul.
It was not an easy task for Danny following that highlight, but he did an extremely inspired version of his own "Only You". There are some different versions of this one, but this was the best ever, he most certainly did his best not to be upstaged by Peter. Next song was again a selfpenned tune by Danny, "Loving Kind", Peter did the fills during the verses, and they did a tasty twin-lead solo in octaves.
Jeremy strapped on his Flying V again and delivered a sparkling version of Elmore James' "Stranger Blues" and showed that they still could move like a bitch. Mick Fleetwood played some frenetic drums. Next number was Elmo's "The Sun Is Shining" which proved that Jeremy had lost none of his admiration of Mr. James.
Next was Peter with "Oh Well" which he had written as a stage number,
it was not intented to be recorded first.( But it was, and became Peter's magnum opus). Jeremy played maracas on this one, and Peter let Danny play the guitar solos. It was hard for me to understand why he would let Danny take the solos, it still is! This kind of generosity backfired on him later.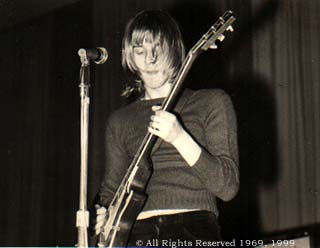 Danny's next contribution was the opening track from Then Play On "Coming Your Way". Again he and Peter played some beautiful harmonised guitars. It is a pity that they never got the time to take this further since Peter left the band shortly afterwards.
Jeremy ended the Concert with an inspired version of Hammer/Blackwell's "Great Balls Of Fire". Peter played some very nice solos on this last song of the show, and they appeared to have fun.
The audience went wild and wanted more of course, but Fleetwood Mac left the stage. The storm of applause wound not end and they finally came back again.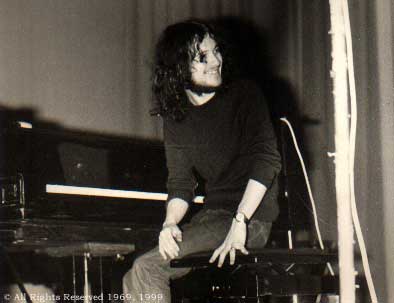 Peter presented the first encore "this is dedicated to everybody in Sweden, and everybody in the whole wide world, isn't that nice?" Then they played a hearfelt version of "Albatross", which Peter used to call Albert Ross. When they released this as a singel 1968, a lot of their original followers shouted that "Fleetwood Mac have gone commercial".
I don't understand how they could put down such a lovely instrumental. It became a worldwide number 1 hit, and opened doors for them.
As final encore Peter did Little Richard's "Jenny Jenny", and it made sence why Peter some 18 months earlier had told me that Little Richard was one of his favourite singers. This was a lenghten version, very similar to the one on the "Boston Tea Party" sessions.
This Concert is one of the musical highlights in my life. After the Concert I had a talk with Peter which was more of a private conversation and thence of that omitted here. I followed Danny and showed him the way to their hotel. That night it was hard to fall asleep. I was on cloud nine.
© 1999. Copyright Bela Stephens March 26, 1999
[ Top of this page ]