Fleetwood Mac at Idrottshuset Orebro, Sweden. November 23,1968.
This was Fleetwood Mac's second Concert here in Orebro. A lot things had happened since last time. They had been on their first U.S. tour, released their second album "Mr. Wonderful" and augemented the band with a 5th member, Danny Kirwan. I was very curious of course to find out how these circumstances had effected the band.
I met them backstage, and they remembered me from Club 700. What was most obvious was the change in Peter Green, he was still very kind to me, I played on his guitar in the dressing room. But it was noticeable that he was more self-confident, and it was evident that he was the leader, much more than before. I took Danny's pulse and asked him if he was their new front-man, he was very gently and said "of course not, first Peter plays his songs, then I do mine, and then Jeremy does his". Very sympathetic, I thought, this young kid (only two years older than myself) had kept his cool. I also did an interview with Mick Fleetwood, which I got on tape. Click here to listen to the conversation.
There was a big change on the stage also. Gone were the vaudeville days with assorted battered amplifiers. There was a forrest of new Orange amplifiers. Peter wore a beautiful white silk shirt and brown leather pants. The faded denim days were long gone.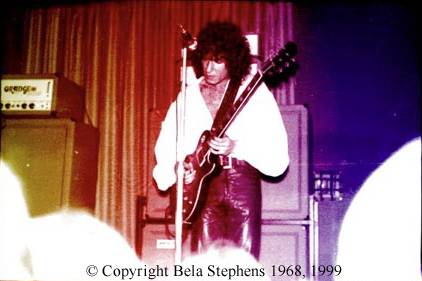 Peter opened their act with a stunning version of "Stop Messin' Around" he played a brutally intense guitar solo extended over many choruses, experimenting with feedback. It was a new Peter, not only new amplifier and clothes, but his playing had matured remarkable since last time. Next he did "Driftin' " at a slower suggestive tempo than on the "Original Fleetwood Mac" album.
Then it was time for young Danny to do his his part. When he played the intro on "Lawdy Mama" he took us all by suprise, it was easy to understand why they had inluded him in the band. Danny had a wonderful warm finger vibrato and a nice tone on his Gibson Les Paul gold top (with P-90's). His second song was his own composition "Something Inside Of Me".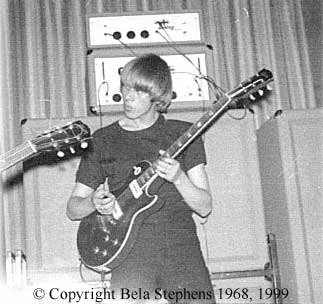 Until now Jeremy Spencer had been playing piano. Now it was his turn do some numbers. When the slide hit the strings on his Gibson ES-120T
I heard that Jeremy's playing was more substantial than before. He really loved to do those Elmore James songs, and did it with a sincerity that is unsurpassed yet. Jeremy did a truthful version of "Crossroads" and then Homesick James Williamson's "My Baby's Sweet".
Then it was time for the bandleader to master the stage again. Peter did a fervent version of Otis Rush's "Homework" again including feedback in his solo, he played with a force that was unmistakable. His next was B.B. King's moody "Worried Dream" and played the blues like only he could.
Danny played "Jigsaw Puzzle Blues" the B-side of "Albatross" that had been released the day before the concert. It was nice, a change from the 12-bars. Danny was a reinforcement, no doubt about it! It had come to a close, and Jeremy delivered an extendend version of their tour-de-force "Shake Your Moneymaker" . Everybody was dancing on the floor, even their recording manager Mike Vernon shook his hips.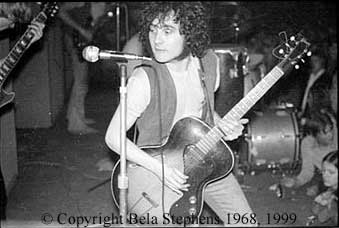 It was round midnight and they had to stop, but Messrs Green, Kirwan, Spencer, McVie and Fleetwood didn't want to stop. Then somebody suggested that they should move over to a local blues club called Power House and have a jamsession there.
It took some time before the stage was set at Power House, but everybody was in such a good mood and did not care waiting, the beer was flowing...
First a local blues group, Blues Quality, who had been Fleetwood Mac's support act played some numbers. Then Mike Vernon joined them on stage for some songs. The members of Fleetwood Mac enjoyed seeing their recording manager on stage and soon mixed with the swedish musicians, and finally took over. It was a magic night and everybody experienced a night that they would never forget.
After a few songs Peter Green saw me and invited me to play with them. First it scared the the hell out of me, and I gently said "thanks, but no thanks", but Peter insisted, and I found the courage to join Fleetwood Mac on stage. We did "Stop Messin' Around".
I played guitar solo for one chorus, and stopped, Peter nodded at me to go on, and so I did, with new gained conviction. Everybody was cheering and shouted for more, so we did a 12-bar bluesjam in E. Incidentally, Nicke Strom, who played bass with Peter Green on his tour here in Sweden, February 1999, was there in the audience and saw me playing with Fleetwood Mac.
Understandable this was one of the happiest and most influential days in my life. I understand how much I owe to Peter for becoming a professional musician, he was my pathfinder in way. Thanks Peter!
© 1999. Copyright Bela Stephens 1999
[ Top of this page ]