Peter Green in Karlskoga, Sweden. February 27, 1999.
In a house trailer covered with snow constituting a dressing room sits one of the most famous guitarists in the world , Peter Green.
I knock on the door and ask if I am disturning. It is important to point out that Peter has spoken to no-one outside the band on this tour, journalist or private person.
Together with Peter Green sits two of his fellow musicians Nicke Strom and Bengan Blomgren. Nicke explains to Peter that I have brought tapes to him from Clancy Dunigan, USA.
Peter takes a long and reflecting look at me and then asks me to sit down with a tender smile on his face. He says "I have met so many persons in my life and forgot many of them, but I can remember your face". I reminded Peter of that we met a couple of times in 1968-69, and that we jammed in a blues club called Power House in Orebro. "I think I remember something of that" says Peter, Nicke says that he was there and heard when I played with Fleetwood Mac. All of a sudden there is a sparkle in Peter's eyes and we have an atmosphere of nearness, as some times an earlier occasions when we have met.
| | |
| --- | --- |
| I open the folder that I brought and shows Peter the tapes from blues-D.J. Clancy Dunigan, from his excellent radio show "Clancy's Bar & Grill" KSER FM-90.7, Everett, WA, USA. Clancy and Tim Rizzo did a four hour Peter Green Special with guests like Alex Mortland. Don Brown who has the worlds largest collection of Peter Green recordings, was also invited. Peter was glad when I handed over the tapes to him. | |
Then I showed him Don Brown's "Peter Green Catalogue" and there was a surprised look on Peter's face when he look though this 19-pages long list of recordings. Don is incredible, he has every record that Peter has played on, and most probably every bootleg recording with Peter Green/Fleetwood Mac.
Peter had comments on certain concerts, e.g."I remember this jam with Greatful Dead, I loved that. I didn't know that this jam with Eric Clapton (Boston February 1970) was recorded, I was more or less tricked into it, all of a sudden there was Eric and drummer Jim Gordon on stage playing with us". I informed Peter that Don Brown gladly make copies of anything from the list, Peter looks at me and smiles.
When Peter was finished with Don's list I took out The Blue Pearls CD, "Watch Out for The Blue Pearls" and gave it to him. "What a beautiful Gibson Les Paul" Peter said when he saw the CD booklet, "I had a Les Paul which looked exactly like that when I played with Fleetwood Mac".I showed Peter that we play two of his songs on this CD, Watch Out and Rattle Snake Shake. "It was never meant that Watch Out should be released" Peter says, "Mike Vernon released it when we already had left Blue Horizon". I told Peter that I am glad that it was released since it is one of my favourite songs from the Fleetwood Mac era. "I am looking forward to hear The Blue Pearls' versions of these two songs" says Peter.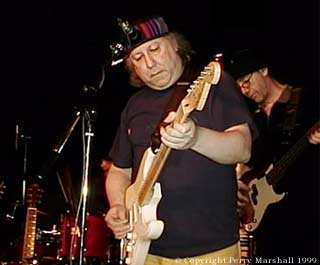 Nicke and Bengan had to leave and get themselves ready for their opening act, they ask Peter if it is O.K. that they leave. Peter then asks me if I want to keep him company so that he don't have to be alone. It is a situation that is hard to describe, here sits one the most wanted guitarist and one of the most hard-to-get-in-touch-with persons in the world, and he asks me to keep him company.
When we were alone Peter Green asked me to sit closer to him and offered me something to eat or drink. I said I'd be glad to drink something, he told me "there's mineral water in the fridge, and whiskey also, but I'd prefer that you drink water, cause I don't like to talk to people who are drunk". I went to the fridge and took out a bottle of water, Peter rose to find a bottle-opener.
So there I was sitting alone with this man that other people would gladly give an arm and a leg to meet. I told him how much it meant to me to play with him and Fleetwood Mac as a teenager, and that it helped me to decide that I wanted to be a musician. Peter looks at the Blue Pearls CD-cover and spots the photo of him and me in Stockholm 1983. "There is an artist in England called Blue Pearl without the letter s" Peter says while he looks at the CD-inlay. I told him him that I am aware of that, but since we play totally different music I don't think there is any risk of confusion.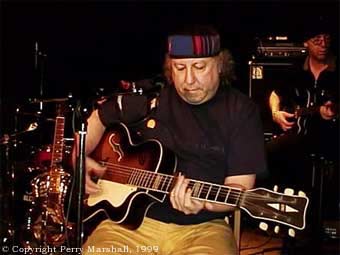 Is it fun to be on the road, do you enjoy to play again? I asked him.
"Yes, I like to play guitar and I only play music that I like. What could be annoying on the road though, is all the people that want to come and speak to speak to without having anything to say. They should respect that I want some privacy before and after a gig".
You perform some songs that you played with Fleetwood Mac, do you try to play them like you used to, or do you have a different approach?
"I know I can't play them like I used to, but I'd rather copy myself than somebody else. I am not satisfied with my playing yet, but I am getting better".
Do you rather play acoustic or electric guitar nowadays?
"I enjoy playing both, I like to alternate, I don't think I'd like to play just one or the other".
I have heard that that you and Nigel have recorded some news songs?
"Yes, we have recorded some demos" says Peter.
It is funny to hear Peter refer to these recordings as "demos" since any record- company gladly release recordings with this legendary guitarist. Just as many people would give just about anything to be in my shoes right now, sitting here having a relaxed conversation with the Green God.
Peter's roadmanager Arthur Anderson enters the trailer, he looks at the folder with the tapes and the CD. The concert is about to begin an Peter thanks me for keeping him company. I thanked him for an enjoyable conversation. Outside the snow is still falling.
P.S. During this 30 minutes talk we spoke about things concearning the private person Peter Greenbaum. It goes without saying that I have excluded those bits, anything else would be unfair and unprofessional.
I have only represented parts concearning the artist Peter Green.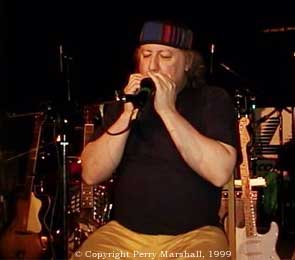 Peter Green & Nigel Watson backed by Potatoes Setlist

1. Honeymoon Blues A (Acoustic set)
2. Steady Rollin' Man A
3. Travellin' Riverside Blues A
4. Sweet Home Chicago E
5. If I Had Possession G
6. Terraplane Blues A
7. It Takes Time F# (Electric set)
8. The Stumble E
9. Dark End Of The Street G
10. The Supernatural Dm
11. Black Magic Woman Dm
12. Help Me Fm
13. Albatross E
14. Yonder Wall E (Encore)
Potatoes :
Bengan Blomgren: guitar
Mats Ronnander: guitar/harmonica
Niklas Medin: keyboards
Nicke Ström: bass
Tomas Olsson: drums
© 1999 Copyright Bela Stephens March 2, 1999
[ Top of this page ]