Watching Mick Taylor September 25, 1999
This weekend we (The Blue Pearls) had some free time so Madman and I took the opportunity to watch the legendary guitarist Mick Taylor at Village, Vasteras, Sweden. It was nice to see that Mick was alive and kickin'. Unfortunately he can also be included in the list of artists that found it hard to cope with fame and the life style that goes with it.
Mick is a great guitarist and was tracked down by John Mayall in 1967. He joined Mayall's Bluesbreakers when Peter Green had left to form Fleetwood Mac. Mick surprised everybody playing so mature at the age of 17!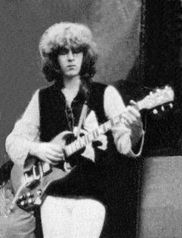 After Bluesbreakers Mick Taylor was invited to join forces with the "Rock n Roll Circus" The Rolling Stones. Mick is known to most people for his years alongside Messrs Jagger and Richards. He really made them swing wiith his guitar solos and some very nice slide guitar also. Keith Richards once said that Mick Taylor was the only real musician ever featured in The Stones.
After those years on the top very little has been known about Mick's whereabouts. I once saw him in Gothenburg with Jack Bruce in the 70's, where they did a great version of the Cream classic "Sunshine Of Your Love". He later appeared with his old boss John Mayall and did some concerts with Mayall labelled as "The Original Bluesbreakers".
Now he's back and has released a new CD "A Stones' Throw". Mick is now touring with the great musicians he collaborated with on the album. Mick played on a beautiful cherry sunburst Gibson Les Paul through 2 amps, a Fender and a Marshall. The 2-set list mainly contained songs from the album and also some classics as "You Got To Move", "I Can't Quit You Baby" and Hendrix's "Red House". We all knew that Mick was a great guitar player but it was a big surprise that he also has been gifted with a good voice. One can't stop wondering why he has not show-cased this earlier.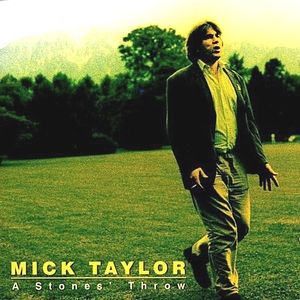 Mick's attitude was very gently and he also gave opportunity to the other members of the band to show their skills. Mick has lost none of his touch on the guitar, he has always been a great slide guitar player but has developed his slide playing even further. All in all it was inspiring to see Mick on stage again, I hope that he will receive the attention that he deserves now that he is standing on his own legs.
After the concert I went and spoke to Mick. I thanked him for the Concert, and told him that I saw with him with with the Bluesbreakers in 1968 in Orebro. "That was a very long time ago" he said. "Yeah" I said, "there's been a lot of water under the brigde for both of us". I told him that I'm glad that he is back. Mick seemed to enjoy that I tried to encourage him. I also took the opportunity to give him a sample of our CD "Watch Out For The Blue Pearls". We wished each other good luck.
Now Mick is the second of the three guitar giants who has been a member of The Bluesbreakers to receive our CD, the first was Peter Green, we'll see when we'll meet the Big Cee.
September 26, 1999.
Bela Stephens
The musicians:
Max Middleton piano
Robert Ahwai guitar
Michael Bailey bass
Jeff Allen drums
© 1999. Copyright Bela Stephens 1999
[ Top of this page ]